Induction Hydraulique® combines the horizontal vibrations generated by the vibrator and the lateral delivery of the soil to obtain an optimal compaction of the soil. In the case of an insulated substitution block, the lateral discharge of the material compacted by Induction Hydraulique® ensures that the decompressed soil is confined in the periphery.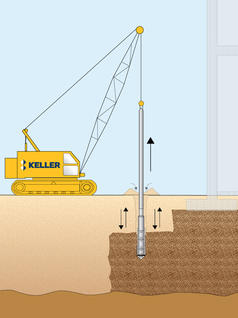 Common uses
High working rate footings and solid bases (5 bars)
Process
Depending on the nature and extent of the loads to be taken, a mass treatment can be carried out by regular meshing or a localized treatment under footings. 
If top layers of soil are non-compactable silty-clay, these materials should be partially or totally drained beforehand and replaced with a sandy-gravelly material. The substitution block can be combined with a depth treatment such as ballasted columns, Rigid Inclusions INSER® or CMM® for example. 
Advantages
In the case of an insulated substitution block, the lateral discharge of the material compacted by Induction Hydraulic® ensures that the decompressed soil is confined in the periphery
Weak settling under cyclic loads (vibrating machines, wind turbines, turbines)
Optimal compaction of alternative materials even under water